click to enlarge

The Orleans Seafood Kitchen shows its appreciation to the teachers before school starts again.
Photo by Becca Wright
Here's a look at this week's hottest culinary events:
All week long
Hatch Chile Fest in the Central Market
The 26th annual Hatch Chile takes place through Tuesday, August 24th at Central Market, 3815 Westheimer, and features Hatch products and dishes from fresh and fire-roasted peppers to Hatch Green Chili Queso, Hatch Crab Cakes and Hatch Green Chili Chicken Tamales.
First anniversary at Poke Burri and Lifting Noodles
Celebrating its one year birthday and official opening, Poke Burri and Lifting Noodles, 2503 Bagby, is offering half a dozen sushi donuts of your choice for $ 30 from Monday, August 9 through Saturday, August 14.
I support
Local
Community
journalism
Support the independent voice of Houston and help keep the future of the Houston Press free.
Keep the Houston press free.

Monday 9th August
Pro-Choice Summer 2021 Happy Hour Series at Little Dipper
Local, women-run organization I'll Have What She's Have – the cooks,
Hospitality professionals and doctors to raise health awareness and improve access to health care – continues its Pro-Choice Summer 2021 happy hour series, a response to the extreme six-week abortion ban due to go into effect this fall. The series runs every Monday in July and August and benefits organizations such as Planned Parenthood Gulf Coast, Clinic Access Support Network, the Lilith Fund, and others. Next up is happy hour at Little Dipper, 304 Main.
Monday – Friday
Teacher "Back to School" Special at Orleans Seafood Kitchen
Orleans Seafood Kitchen, 20940 Katy Freeway, shows its appreciation for teachers by offering a 15 percent discount to all teachers (or school staff) who show their school ID when paying their check. The discount is valid from Monday, August 9th to Friday, August 13th (food only, without alcohol).
Saturday August 14th
Run the Texas 5k Six Pack Series Beer Run at Southern Star Brewing Company
Southern Star Brewing Co, 3525 North Frazier, is the next stop in Run in Texas' 5k Six Pack Series. The run starts and ends at the brewery, with a water stop at the 1.5 mile point manned by Toys for Tots. After the run, participants can enjoy their finisher glass and up to two 16-ounce tastings in the tasting room, as well as food trucks, brewery tours, music, and more. Start is at 8am and registration costs $ 65 per runner.
Hula Hoopla: 5th anniversary party at the Eureka Heights Brewing Company
Eureka Heights, 941 West 18th, is celebrating its fifth anniversary with an all-day tiki-style event featuring Hawaiian-style beer releases including fruity sours and the return of Final Boss, as well as island cuisine from smoked suckling pig sliders to Huli Huli chicken. There will also be live music, photo ops, and super cool swag. The event is open to the public and the fun lasts from 12pm to 6pm. Guests can also purchase $ 50 tickets to a special pre-party guided tasting event that includes breakfast, an anniversary flight, an anniversary glass, and an hour of open water; and those who want to celebrate from home can win anniversary to-go packs (US $ 100 including five packs of 4, two different anniversary glasses, an exclusive print and sticker).
Sunday 15th August
PupSquad fundraiser in the Mutiny Wine Room
Throughout August, Mutiny Wine Room, 1124 users, is celebrating St. Roch Day (officially on August 16) with a month-long fundraiser for PupSquad. Mutiny donates $ 1 for every glass of wine and $ 5 for every bottle sold to support the local nonprofit and mission to rescue and rescuing orphaned pups. On Sunday, August 15, Mutiny is hosting an all-day celebration for the patron saint of dogs, offering a 10 percent discount on all bottles for on-site consumption.
Katy Enchiladapalooza among scholars and villains
Scholars and Scoundrels, 1251 Pin Oak, completes Katy Enchiladapalooza, a promotion in which several Katy restaurants created specialty enchilada dishes valued at $ 16, with 20 percent of all sales going to the local charity, The Ballad House. On this Sunday, guests can go to the bar and have a barbecue to enjoy smoked pinche gringo enchiladas with homemade ranchero sauce.

click to enlarge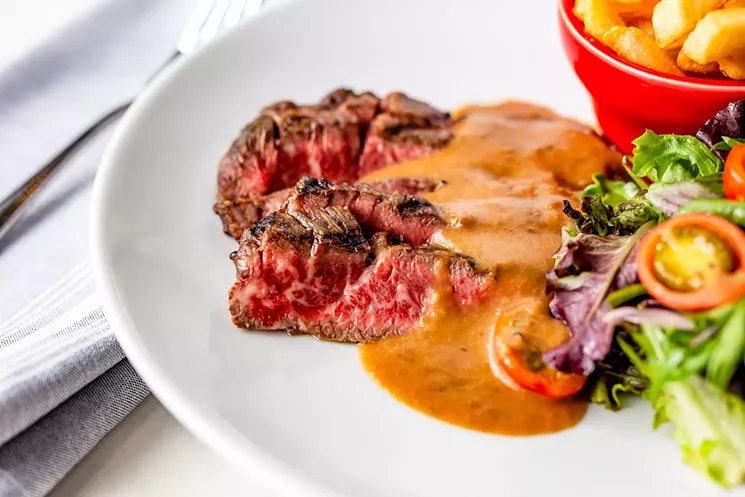 NoPo Cafe is one of the newcomers to this year's Houston Restaurant Weeks and is coming out with a bang.
Photo by Kirsten Gilliam
All month long
Houston Restaurant Weeks
Houston Restaurant Weeks are back, running until Labor Day as they support restaurants and raise funds for the Houston Food Bank. New to the line-up this year are exciting downtown venues like Fegen's, Xin Chào, NoPo Cafe, and The Nash, as well as long-time favorites like Brennan's, Tony's, and Rainbow Lodge. Search the entire library of participating restaurants and their HRW menus to start booking reservations now.
Burger of the month at Hopdoddy
Hopdoddy has made Beyond Meat its exclusive plant-based meat supplier at all locations; And to celebrate, the burger of the month August is Beyond a Reuben, a vegetarian version of the classic Reuben sandwich. Made from a Beyond burger patty with pastrami-flavored mushrooms, Gruyère cheese, Dijon mustard, sauerkraut, pickles and Russian dressing on a freshly baked caraway seed bun, you can have the burger all month long.
National Deli Month at Kenny & Ziggy's
In honor of National Deli Month, Kenny & Ziggy's New York Delicatessen & Restaurant, 2327 Post Oak, is offering a three-course, multiple-choice menu ($ 38) for lunch and dinner, with 10 percent of each meal sold to the Holocaust Museum Houston and provides funding for its educational programs. The offer is valid for the whole month of August.
Sausage festival in the King's BierHaus
In August it is officially sausage festival time at King's BierHaus, 2044 East TC Jester, 828 FM646 West. For the whole month, guests can enjoy all-you-can-eat sausages at both locations, from traditional cheese cheese sausages to exotic wild boar sausages and spicy plant-based chipotle links, from USD 12 (traditional only) to USD 15 (all varieties) at both locations.
Enchilada of the month at Sylvia's Enchilada Kitchen
Sylvia's Enchilada Kitchen, 6401 Woodway, 1140 Eldridge Pkwy, continues its six-month Enchilada of the Month adventure, which began in July. Chef Sylvia Casares created the Armstrong for August, a nod to the ranch in South Texas and the town near her own birthplace in Brownsville. Armstrong offers house corn tortillas filled with traditional carne guisada, garnished with sauce, cheddar cheese, and onions, and served with rice and beans or a Caesar salad, $ 17.50 plus tax and tip.
Month of the Gr8 givings in the Union Kitchen
This August, all six The Union Kitchen locations are celebrating a second annual month of Gr8 giving that includes a special two-course lunch ($ 20, $ 2 donated) and a three-course meal ($ 35, $ ​​2 donated) in favor of Casa de. Esperanza, a local nonprofit organization that provides urgently needed residential and family support to children and infants at risk. Offerings include Ahi Tuna Poke Salad, Gochujang Marinated Pork Knuckle, Watermelon and Shrimp Salad, Truffle Mac and Cheese, Mushroom Demi Lamb Chops, Red Velvet Cheesecake, Key West Key Lime Pie, and more.
New and ongoing specials
The Burger Guys Houston Burger Pizza at BOH Pasta & Pizza
Craft Creamery Chef / Owner Steve Marques has partnered with BOH Pasta & Pizza to create a pizza inspired by his earlier popular burger from The Burger Guys. Made with ground beef, bread and butter jalapenos, onion and bacon jam, and pickled mustard seeds, The Burger Guys Houston Burger Pizza is available now at BOH, 409 Travis, and will run for at least two weeks. The specialty pizza is part of BOH's guest chef series, in which 100 percent of the proceeds from the sale of the pizza go to Ty Grossie, a former long-time employee who is fighting against cancer. For its anniversary this month, BOH will also be serving Spumoni ice cream from Craft Creamery.
Hatch Green Chile Taco at Fuzzy's Taco Shop
For a limited time, Fuzzy's Taco Shop has added the Hatch Green Chile Taco to its menu, the shredded spicy pork or shredded chicken with Fuzzy's signature garlic sauce, avocado slices, feta and coriander with a homemade hatch green chili sauce on a warm flour tortilla. Guests can enjoy the new taco until Sunday August 29th.
The return of Omakase at Kata Robata
Omakase is back at Kata Robata, 3600 Kirby. Chef Manabu "Hori" Horiuchi's menu varies depending on the type of fish he sources from Japan every day, but it is always a mix of hot and cold dishes. There are only eight omakase tastings per night (not available on Sundays or Wednesdays) and the price averages between $ 150 and $ 200.